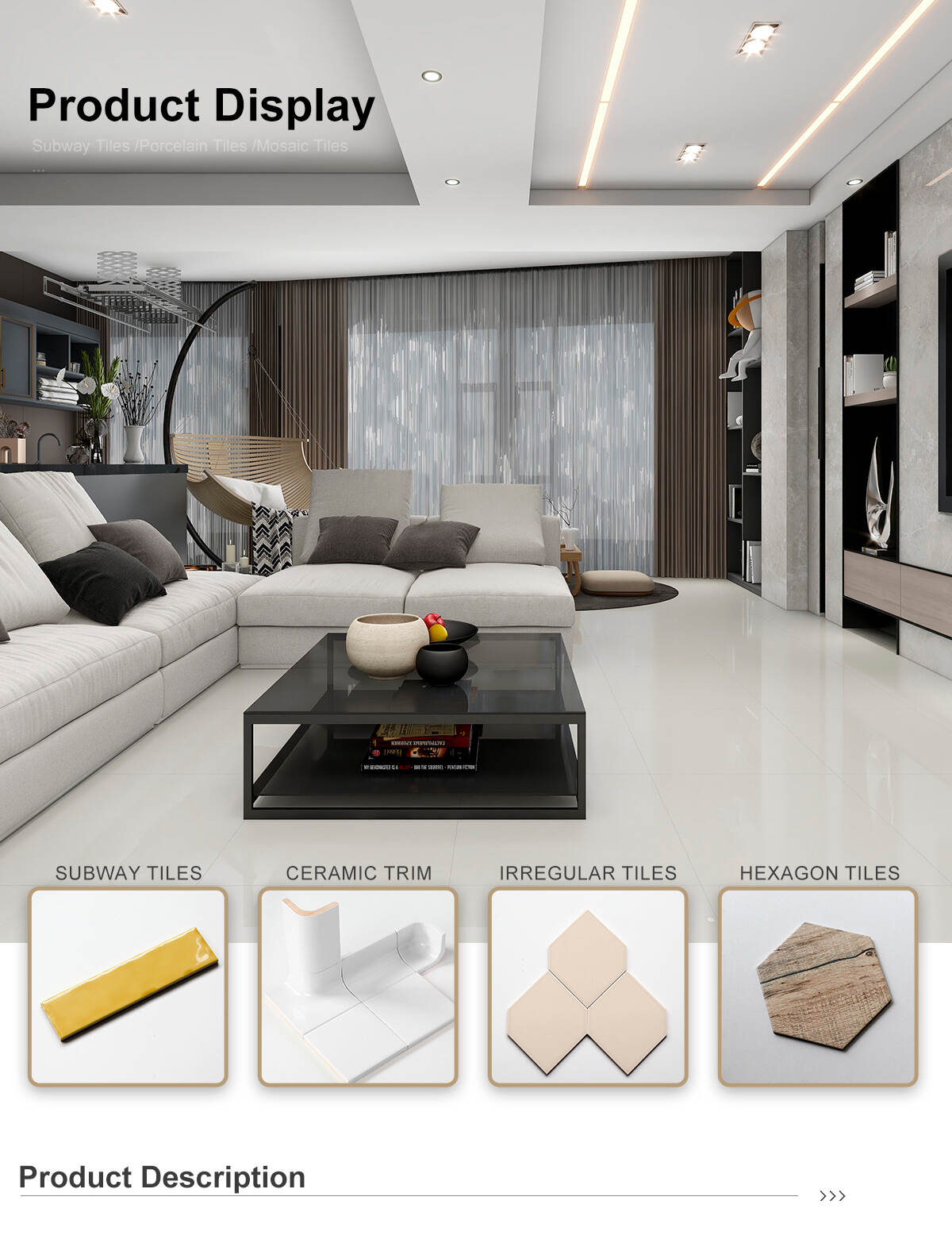 Because a hexagonal tile has six sides, there is greater potential to design different patterns in the floor surface. This not only enables greater visual appeal, but also provides added opportunities for isolating areas for a specific use, drawing the eye to a particular point in the room, or creating a floor space that gives users information about the building in an accessible manner.
The Advantage of Hexagon Mosaic Tile
Modern, attractive design
There's little doubt that hexagonal tiles have a stunning aesthetic. In a contemporary workplace or public space, a softer, wavy line adds a beautiful feature to the floor area, without compromising on performance or practicality.
Superb for awkward spaces
Because of the shape of hexagonal tiles, they offer a more flexible flooring solution in smaller areas or those which have an awkward shape. There is potential to work the design out from the center of the room, drawing the eye away from any unevenness or partial tiles which are laid at the perimeter of the space.
Differentiate floor use
Hexagonal tiles can be laid to show anything from directions to various parts of a building through to the positioning for furniture, the area where the lift is, or to differentiate space for various purposes. Because of the novel shape of hexagon tiles, boundaries are defined without being harsh. Their use results in a highly practical space which is also attractive and soothing.
Selection Tips
Choosing the Right Hexagon Tile Size
Choosing a hexagon tile size is the first step in the design process. If you like a more traditional look, stick with a 2", 3", or 4" size. The smaller hexagons will create a mosaic aesthetic found in traditional, classic, and midcentury bathroom designs. These sizes are ideal for creating tile motifs, such as floral or ombre patterns. It's also important to note that smaller hexagon sizes provide greater slip resistance due to an increase in grout lines, so we recommend smaller hex sizes for shower pans.
Consider Maintenance
Although smaller tile sizes provide greater slip resistance, you should take into consideration that increased grout lines will require more maintenance. If the idea of lots of grout lines to clean makes you nervous, you can always choose a larger hexagon size. Another tip? Consider using a neutral or dark grout line, which will help hide stains, to keep your floors looking their best.
Choosing Your Hexagon Tile Color
This is where the fun begins! With over 100 hand-mixed glaze colors to choose from, you can go anywhere from white to bright depending on your taste and aesthetic. If you've chosen a smaller size and are looking for a pure classic look, you can't go wrong with a solid shade of white especially paired with grey grout. As mentioned above, the smaller sizes are perfect for creating tile motifs that can incorporate a blend of colors.